The Curious demise of the Globe Theatre in 1613 – commentary by David Akenhead
Prelude to The Epilogue to The Tempest and the Prologue to King Henry The Eighth
Epilogue to The Tempest spoken by Prospero
Prologue to King Henry The Eighth as imagined spoken by William Shakespeare
Prelude to the Prologue to King Henry The Fifth
Prologue to King Henry The Fifth as imagined spoken by William Shakespeare
Prologue to King Henry The Fifth, Act 4 on the Eve of Agincourt and dedicated today to the good people of Ukraine and Russia
To A Mouse, on turning her up in her nest with the plough, Winter, 1785
by Robert Burns
Best wishes for 2023 from all of us here at Akenhead crosswords.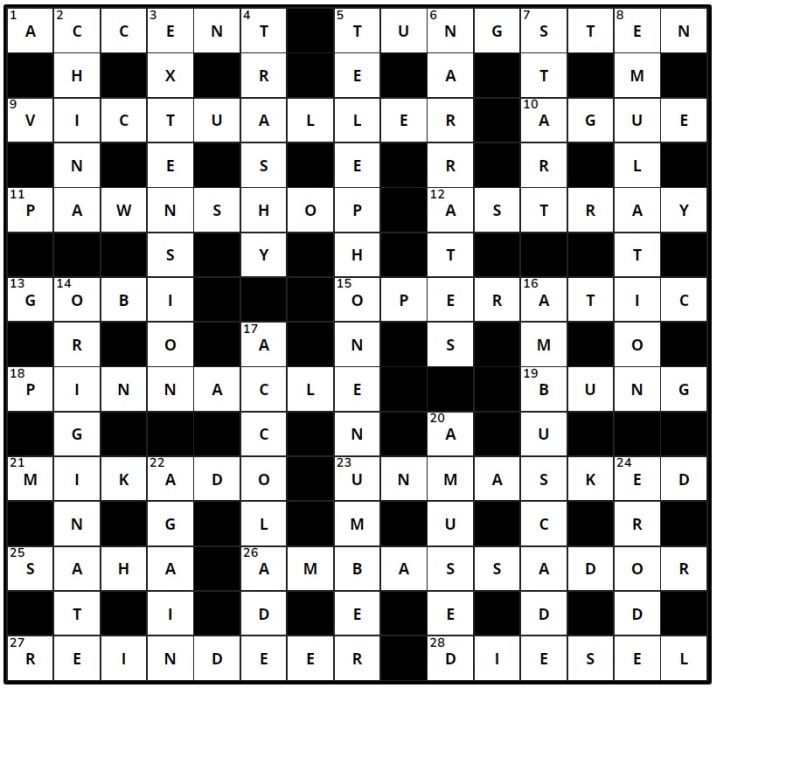 Special crossword competition conclusion on FB and Linked-in in Tribute to the bravery of friends and family in Ukraine
From The East African collection – Volume 1, Puzzle No. 23 – crossword by EA (and DA) published originally in the East African Standard on Saturday, 5th November 1960
H (twice) for Help appeals for Ukraine refugees
'The time has come' the Walrus said, to wrap this memorable tribute up!
Note: henceforth just credit for correct solvers, (my own input excepted), courtesy of limited time and space!
Thanks to all!
David Akenhead CEO Akenhead crosswords under licence from Times Newspapers UK Limited.
At www.crosswordsakenhead.com our following stands at over 105,600
Across:
1 Breaking ten after a double century in a manner of speaking (6) M. Rolfe
5 Talker, we hear, has gun of metal (8 ) B. Dalliston/M. Rolfe
9 Call virtue perhaps a provision merchant (10) S. Saxena
10 A guest who's lost his way's got the shivers (4) S. Allen
11 Uncle's inaccurate statement of how chessmen move (8 ) J. Griffin
12 Off course like a bearer of dishes (6) B. Patra
13 Desert advertises local line (4) DA Go BI (British India Line)+ I. Morrison
15 Pertaining to musical drama a long time in the eye (8 ) B. Patra
18 Hostelry in place maybe of the highest point (8 ) V. Perumal
19 Bath product takes note of a stopper (4) B. Patra
21 Wandering minstrel's authority (6) S. Saxena/M. Rolfe
23 Minus domino (not requested if minus a thousand) (8 ) M. Charlu/ S. Venkatesh
25 Gob-stopper has a crazy answer (4) DA/EA Saha (has a*) Arabic gob-stopper! No alcohol permitted! Toast to good health!
26 A thousand fish take tortuous road of the diplomat abroad (10) M.Charlu/M.Parasuram
27 He's a beast to err strangely holding in the river (8 ) V. Perumal
28 Type of locomotive that brings one into Leeds somewhat deviously (6) R. Santakumar
Down:
2 Feature a country (5) S. Ramachandran
3 Something added out of strain (9) J. Balakrishnan
4 Try holding wood like Iago's purse (6) C. Finlay
5 What to demand of your girlfriend before giving her a ring (9,6) J. Balakrishnan
6 Tells of a near star (8 ) S. Saxena
7 Origin without origin would be sharp-tasting sweet (5) S. Saxena
8 Copying to make a mount lie (9) A.K. Singh
14 Begin or take one drink with tea perhaps (9) V. Perumal
16 Morning transport opens French gift for surprise attack! (9) J. Balakrishnan
17 Dubbing (8 ) A.E. Baguis
20 A large number employed even if Queen Victoria wasn't (6) R. Santakumar/A.K. Singh
22 Khan not out a second time! (5) M. Charlu
24 What rough seas do to the coastline in zero depth (5) B. Patra
N.B. Link below to Volume 1 on my website and my new program offering Help or No Help, (recommended for experienced solvers), but the other is there for newcomers to cryptic crosswords too – DA
https://lnkd.in/gket9Uv6
The Times
Hits: 526